The South Bay is an amazing place to live. The beach cities in the South Bay deliver a small beach town feel while still providing all the amenities of a big city. Obtaining that quintessential Southern California living experience can come with a hefty price tag. In January 2023, the median sales price of a single-family home in Manhattan Beach was $3.29M, Hermosa Beach was $2M and neighboring Redondo Beach was $1.6M. If you are looking for a budget friendly option for home buying in the South Bay without sacrificing amenities, North Torrance is a great option to consider in the South Bay. North Torrance has a median sales price of 968K and provides easy access to freeways, great public schools, close proximity to the beach and all the same entertainment, dining and shopping options as neighboring beach cities.
In the video below we take you on a tour of a 4 BR/2 BA/1600 SF North Torrance single family home that was purchased in June 2022 for $810,000, completely remodeled and now currently for sale and listed at $1.175M.
City of Torrance
The city of Torrance is located in Los Angeles county and is part of what is known as the South Bay region of the metropolitan area.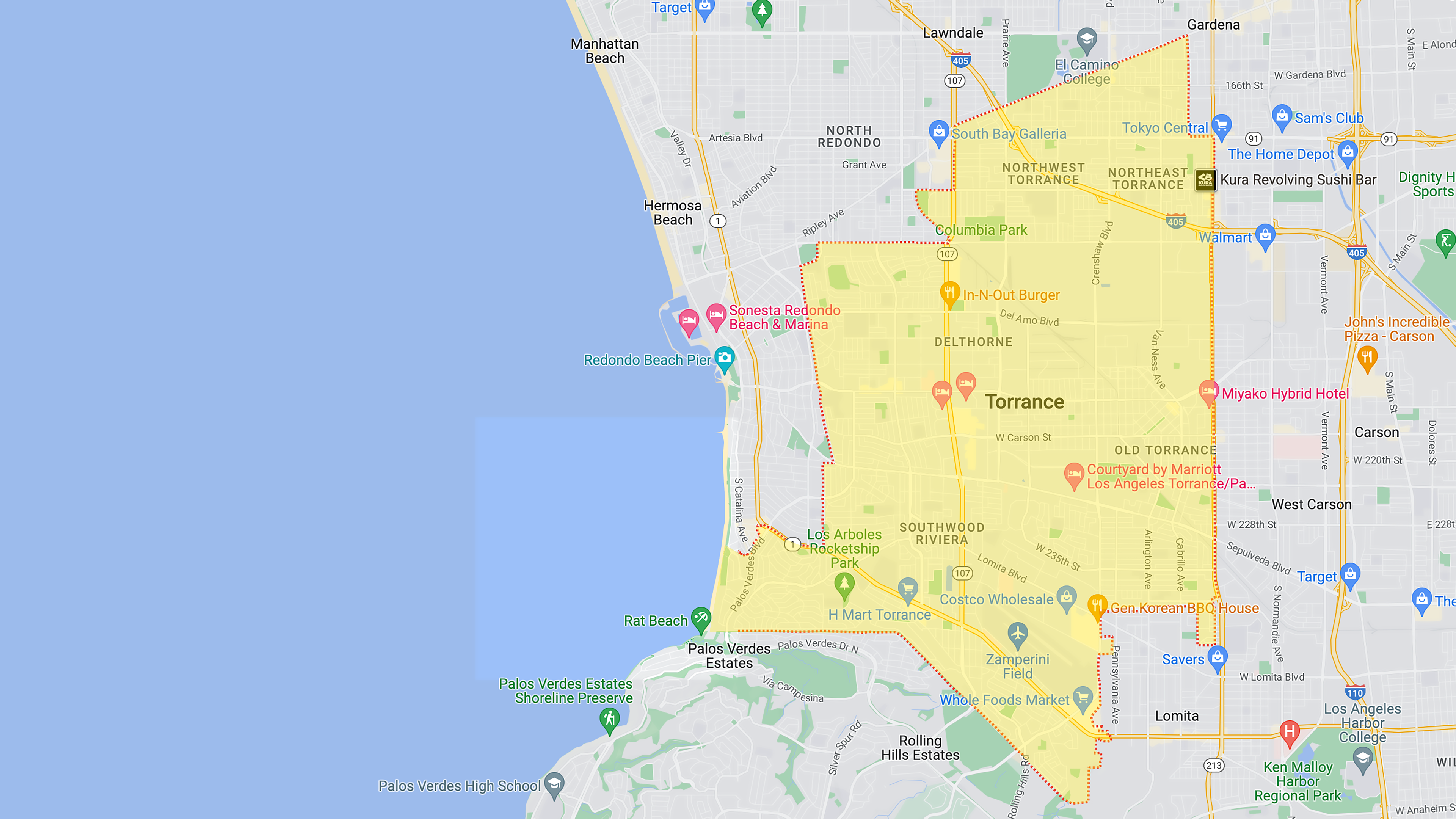 Torrance was incorporated in 1921 and it is a very large city covering 20.53 square miles. The 2020 census put Torrances' population at approximately 150,000 and it's the 8th largest city in Los Angeles and the 33rd largest city in California.
Torrance has all the same attractions as neighboring beach cities. The city has over 30 parks, 1.5 miles of southern California beachfront, convenient access to major freeways and public transportation, and and abundance of shopping, restaurants and entertainment. In addition Torrance consistently ranks among the safest cities in Los Angeles County.
Torrance Neighborhoods
Torrance is made of of 13 main real estate areas: Harbor Gateway, Central Torrance, County Strip, Hollywood Rivera, North Torrance East, North Torrance West, Old Torrance, Southeast Torrance - East, Southeast Torrance - West, South Torrance, Southwood, Walteria, and West Torrance.
Torrance Schools
One thing that makes Torrance so desirable especially for kids and families is the public school system. Torrance Unified is ranked as one of the most diverse school districts in LA county, top 10 for sports and athletes and the #15 school district in LA county.
Torrance Unified School District
The Torrance Unified School District (TUSD) is widely regarded as one of the top school districts in the state of California and LA County.
Torrance Unified consists of 34 Schools- 17 elementary schools, 8 middle schools,4 high schools, 1 continuation and 1 alternative high school and 3 adult school campuses.
Torrance Private Schools
Torrance is also home to several private schools ranked in the top 20% of the state for private school education.
Torrance Community College
Torrance is also home to El Camino College, one of two community colleges serving the South Bay. The college offers over 75 academic programs to prepare students for the future.
North Torrance
North Torrance is bordered by Gardena, Central and Old Torrance, Redondo Beach and Lawndale.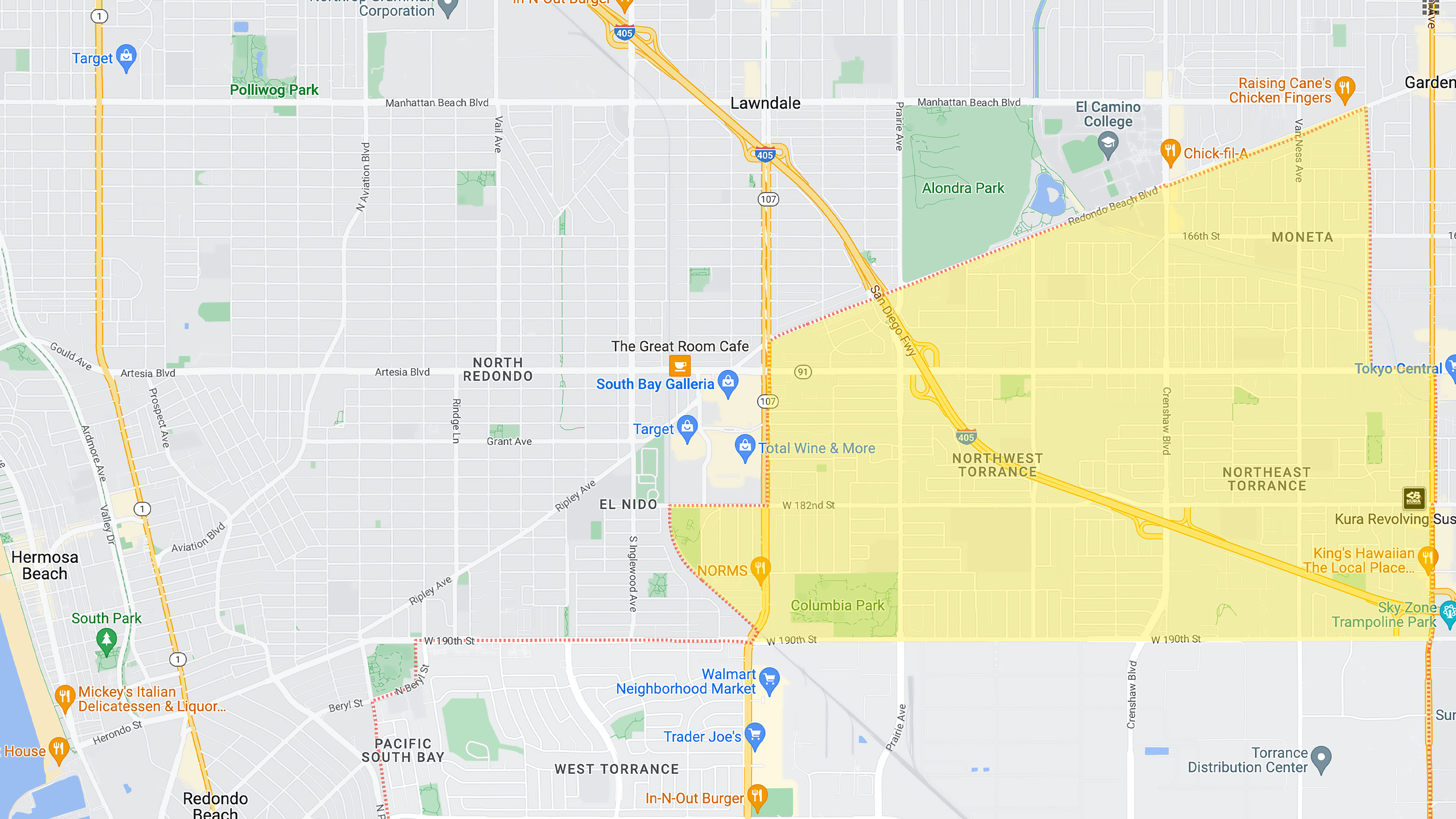 North Torrance is designated by the zip code 90504 and broken down into two sections: North Torrance East and North Torrance West.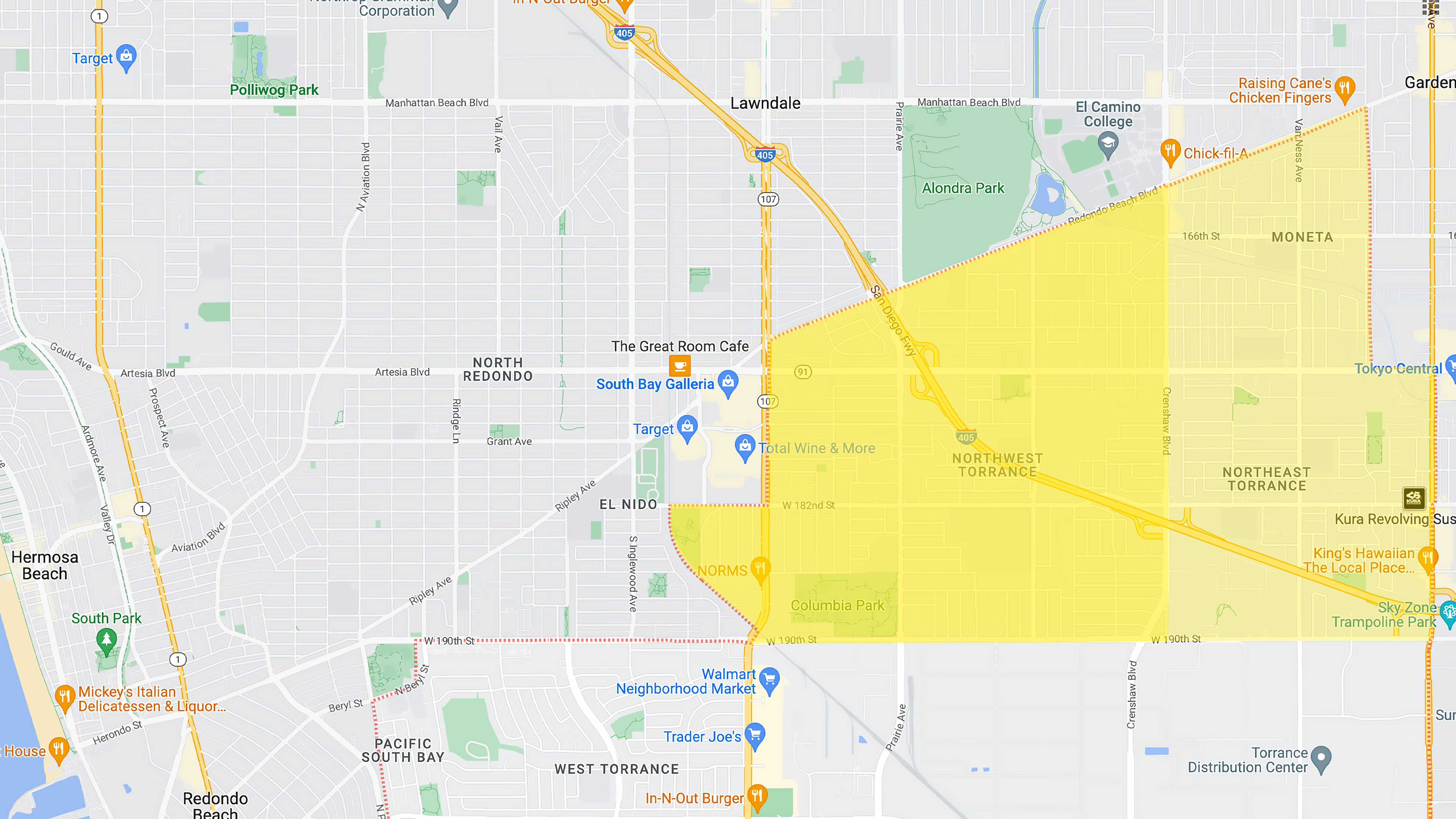 North Torrance is primarily made up of single-family home neighborhoods, but there are condos and townhouse communities and detached townhouses (2 on a lot similar to Redondo Beach) ranging from $550K for an older, smaller condo to $1.2M for a new construction townhouse.
North Torrance is a great option if you've been priced out of neighboring beach cities Redondo, Hermosa and Manhattan because you are around 5 miles to the ocean, close proximity to both the 405 and 110 freeways, 10/15 minutes to LAX and you have an abundance of shops, restaurants and entertainment nearby.
As of January 2023, the median sold price for a single-family home in North Torrance is $968K and the median sold price in neighboring North Redondo Beach is $1.6M for reference. Homes range from $700K for a smaller, fixer upper to $1.4M/$1.5M for a larger, updated home. Between January 2022 and 2023 North Torrance saw 8% appreciation.
There isn't a lot of new construction single family homes in North Torrance, but we have six single family homes that are currently under construction in North Torrance that will range in price between $1.5-$1.8M so if you would like to get on our interest list click the link below.
South Bay Galleria
The South Bay Galleria is a shopping mall which is right on Hawthorne Blvd. bordering North Torrance. The Galleria has just started it's $1 billion dollar renovation. This will be a major attraction for the area.
Plans for this development include a hotel, apartments, office space for businesses, high end shops and restaurants, skate park, outdoor space and it's being dubbed the entertainment hub of the South Bay so that will be a much needed upgrade for the area and I think that will increase the home values of Torrance, Lawndale and Redondo as well.
North Torrance West
North Torrance West is located between Hawthorne Blvd./Crenshaw Blvd. 190th and Redondo Beach Blvd. A little over half of this area is located west of the 405 with a small triangular section located east of the 405.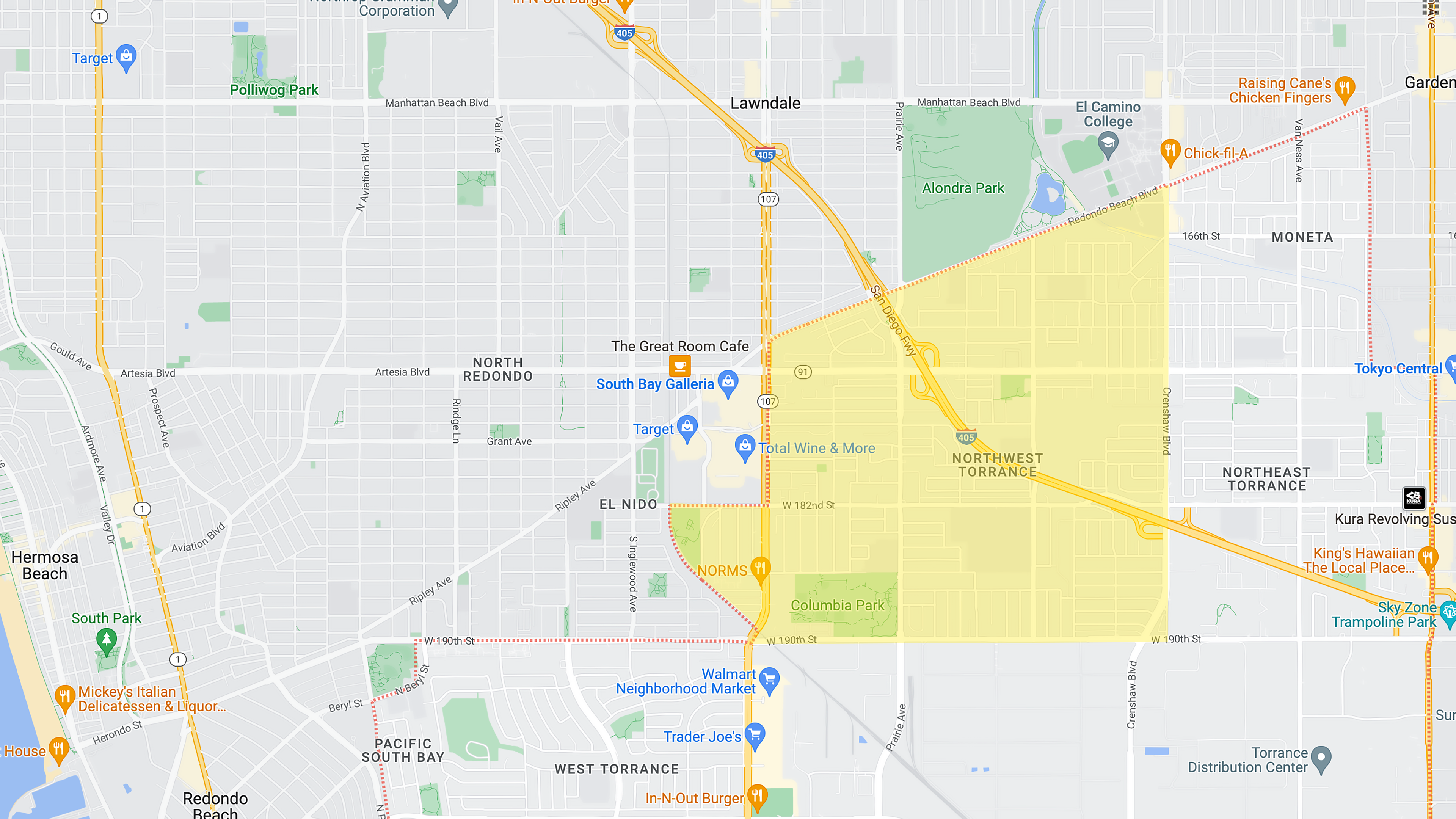 This area is bordered by North Redondo Beach, Central Torrance, North Torrance East, South Lawndale and Bodger Park and El Camino Village, which is also Lawndale. A majority of the homes in this neighborhood are older single-family homes, but we are seeing a lot of home renovations and homes being flipped in this neighborhood.
Below is a link to a video for a home that was flipped and listed for $975K.
North Torrance East
North Torrance East is located between Crenshaw, Western, Redondo Beach Blvd. and 190th. The majority of this area is located east of the 405 except a small triangular section. North Torrance East is bordered by Central and South Gardena, McCarthy, which is also Gardena, North Torrance West and Old Torrance.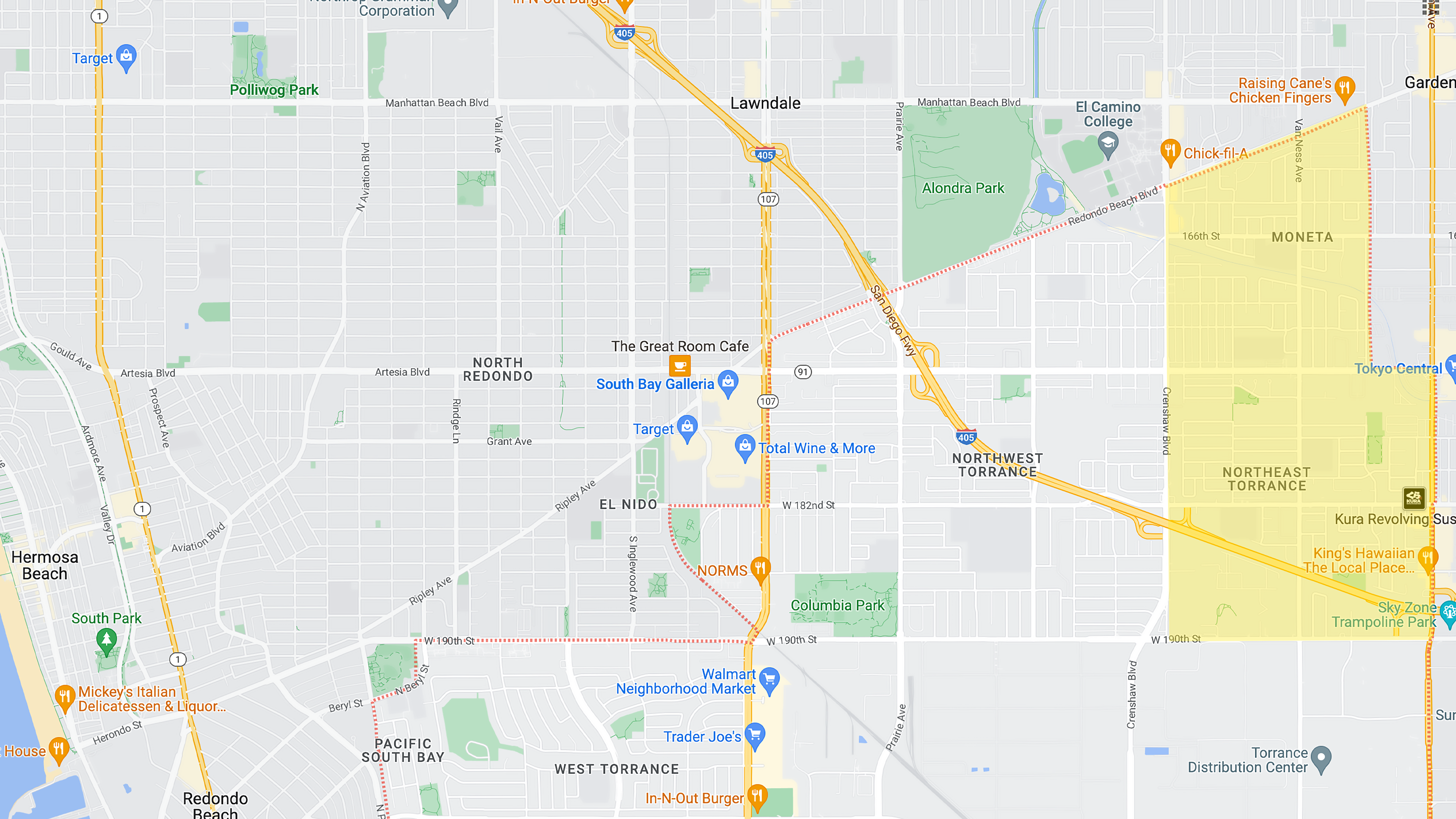 Children in North Torrance attend Carr, Yukon or Lincoln Elementary School, Philip Magruder Middle School and North High School. Chuck Norris is one of the famous alumni of North Torrance high school!